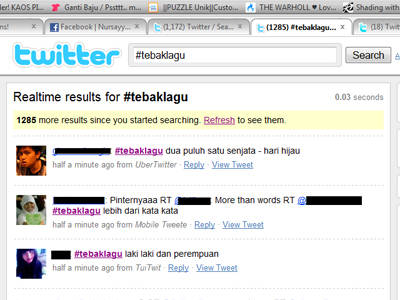 Selamat! #tebaklagu di twitter sempat menduduki peringkat 1 walaupun sampai ini diketik sudah terkalahkan oleh #nowplaying.
Dari judul topicnya aja #tebaklagu itu pasti dari Indonesia, sungguh menakjubkan. Beberapa waktu yang lalu sempat "Indonesian" masuk trending topic.. Wah wah, bisa diperkirakan jumlah pengguna twitter di Indonesia sudah mengalahkan jumlah pengguna di Amerika. Berarti banyak banget yah? ckck, penduduknya 200 juta orang sih.. ya walau ada yang ga bisa buka twitter juga tetep aja banyak..
Nih, berikut beberapa #tebaklagu yang keren keren!

@selskyy: Fall For You Secondhand Serenade RT @nettaugusty: #tebaklagu Jatuh Untukmu - Serenade barang bekas

@keanuaffan: Bring me to life *tadi gua juga tweet ini --> RT @MSchwandorf: #tebaklagu bawa aku untuk hidup

@Mcdoans: Kutunggu jandamu! haha RT @cindypopcakee: #tebaklagu i'm waiting your widow - wkwk

@vincyasiagian: Kucing garong? RT @mcdoans: sekali lagi #tebaklagu = The thief cat. sumpah gampang.. :)

@nettawinn: honey bunny sweety - string :p RT @heydilla: #tebaklagu madu, kelinci, manis

Wahaha, cuma 5 tuh, yang konyol konyol aja. abisnya trafficnya gede banget.. :) Sungguh terlalu, Sungguh menakjubkan..
Ini adalah prestasi yang cukup membanggakan, bisa dibilang #tebaklagu lebih jelas daripada salah satu trending topic Indonesia yang gajelas banget.. "Yang NOKIA" apa maksudnya? ckck, tapi gapaplah, cukup membanggakan. Hahaha

Segitu dulu aja ya, salam mcdoans!